Starlite 230 Volt Hot Surface Igniters
Starlite hot surface igniters from the American manufacturer I-Squared-R are made of high purity, self-binding silicon carbide. The hot zone area is specially formed and has maximum strength to achieve a long service life. Starlite hot surface igniters operate in a voltage range of between 208 and 230 Volt and are used as micro heaters in laboratory furnaces, as high temperature igniters to burn off inert gas or in batch furnaces, for example. In the United States and Great Britain in particular, Starlite hot surface igniters are used to ignite gas in gas boilers and in domestic applications, such as gas-fired dryers and water heaters. Many other applications are also possible.
Features and Benefits
Starlite hot surface igniters are the most robust silicon carbide igniters (SiC igniters) available on the market and can be customised to your applications' electrical and thermal specifications. Starlite ignition electrodes are partially shock-resistant, are supplied with optional individual connector sockets and can be ordered with a non-standard connector cable length (approx. 125 mm). For robust use is SIC-igniter have established with metallic housing (Protection Cage).
Physical Properties
Time available to reach 982 °C (at 207 Volt) = 20, 30 or 50 sec. depending on the specification
Current range at 230 Volt = 1.8 – 4.5 Amp (customer-specific limits are available as an option within this range)
Temperature range at 230 Volt = 1.204 – 1.537 °C (igniter: customer-defined limits are available as an option within this range)
Plug material = normal temperature-resistant industrial materials are used. The standard 230 Vigniter (article no. 910000100) is supplied without a plug
Connection ends = industrial-standard materials are used, optionally also according to customer requirements
Connecting cables = standard cables are resistant to 200 °C (or cables in lengths and grades defined by the customer, if specified)
Authority approval = CSA approval
Dimensions – Standard Igniters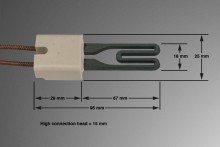 Article number: 910000100
This article can be delivered within a few days and is available ex stock.