SiC heating element installed in fibreboard or fibre shell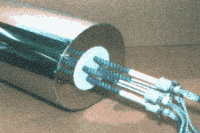 | | |
| --- | --- |
| CeraSys 1500 | CS – 1500 |
| Max.element temperature: | 1500 °C |
| Installable power: | over 30 kW/m2 at 1500 °C |
| System of heating: | bar shaped |
| Fitting position: | to be discussed |
| Heater: | Silicon Carbide |
CeraSys 1500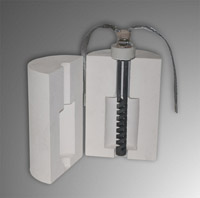 Example application for the CeraSys 1500
Tube heating elements for a test furnace, consisting of ceramic fibre at a classification temperature of 1400°C.
External dimensions: L 260 x D 180 mm, with SER Type SiC heating element: dimensions 300 x 150 x 25 mm, heated zone length 150 mm, operating temperature 1100°C.
Not seen in the picture of this product use are the ceramic floor endplates, dimensions D 180 x 20 mm, a temperature-sensing element and the secondary insulation of 100 mm thickness.
The power output is 1200 watts.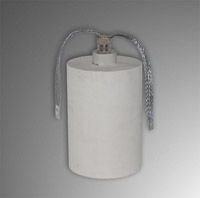 We are happy to advise you on our products.